The school has an effective, hassle-free transport service connecting every neighborhood of Chennai city. A fleet of first-class vehicles has been pressed into operation to provide service within a radius of 20- 25km. Point to point pick up and drop services are offered to all students and conductors are appointed in each bus. It is well equipped with a first aid box in case of any emergency. Facilities like GPRS, CCTV and tracking app are implemented. Female Conductors are appointed for the comfort and safety of children.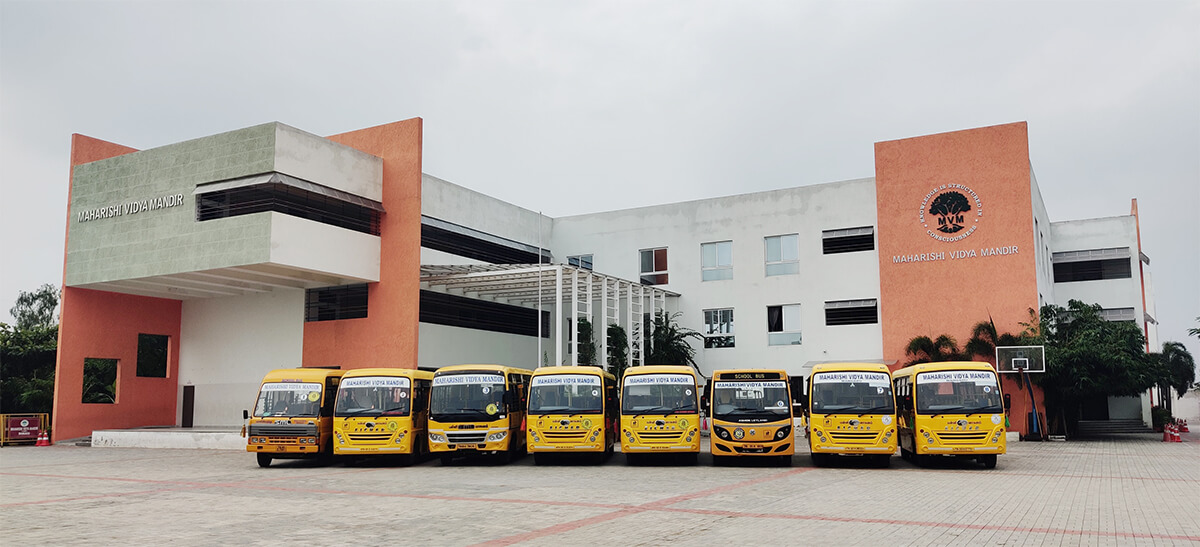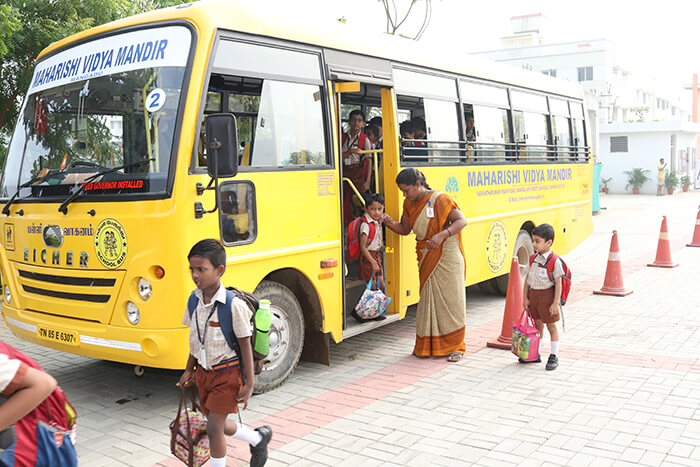 MAHARISHI VIDYA MANDIR – MANGADU
TRANSPORT FEE 2022-23
Distance (km)
Fee per month
0 – 3
2000
3 – 5
2150
5 – 7
2300
7 – 9
2500
9 & above
2600
TRANSPORT POLICY
The school provides transportation for the convenience and the safety of students. The school operates its own buses on specific routes, depending on the number of students on the route.
1. The list of pickup/drop point is prepared keeping in view the convenience and safety of all the commuters. Therefore, the schedule is strictly followed.
2. In the event of a change of residence and the subsequent change of pickup/drop off points for a child, new pick up point shall be entertained only if the facility is available on the route, subject to the availability of seats on new route and at an appropriate cost.
3. Please avoid calling drivers directly as the mobile phones given to them are for emergencies only and they are not permitted to use them while driving.
4. Phone call to be made only to the conductress' official number provided by the school. No personal communication will be entertained amongst parents, drivers/ conductress.
5. Parents should drop their children outside the bus and should not accompany inside the school bus.
6. Parents are required to pick up the child from the designated stop. In case the parent/guardian/caretaker is not there to receive the child, the student/child will be brought back to the school and will be sent back only when parents come to pick up.
7. Students are expected to be present at their pick up point 5 minutes earlier to the scheduled time. (Bus will not wait for Students' arrival at any cost)
8. Pick up and drop will be only at common points. Door step pickup and drop will not be entertained.
9. Parents should cooperate regarding their wards commutation. For Board exam appearing students and for students who are in remedial/ special class, the drop facilities on their own.
10. On special occasions (like Annual day, Sports day, etc.,) parents should pick up and drop their wards.
11. Parents are requested to report any issues/complaints to the transport in charge in writing.
12. Students will be held responsible for any damage caused to the bus/belongings by their negligence or vandalism and fine will be levied.
13. Please ensure that you understand the transport rules and encourage your child to follow them to enable the smooth running and safety of the transport system.
14. There will be no fee concession if any students opt to use the service only one way.
15. Parents are requested to read the Policy carefully before registering and payment of the fees. Once a route has been finalised no changes/diversions will be entertained, and parents are requested to co-operate.
16. Fee once paid cannot be refunded. No adjustment or carry forward shall be entertained.
17. Gift (in any form) to the Drivers/ Conductress will not be strictly entertained.
18. Student misbehaviour in the bus during travel will not be permitted. In case of any such disciplinary misbehaviour action shall be taken and bus facility will not be provided.
19. IMPORTANT NOTE: Fee shall be paid on Monthly basis. It shall be for one full month irrespective of number of working days.
For further clarification or assistance, please do not hesitate to reach us on 7400004444