COUNSELLING AND WELLNESS DEPARTMENT
VISION STATEMENT:
The counselling department of MVM senior secondary school envisions a future where all students are successful in the pursuit of intellectually, socially and emotionally fulfilling lives.
MISSION STATEMENT:
The Mission of the MVM Senior secondary school counselling department is to provide equitable access for all learners to a data driven, comprehensive school counselling program to meet the needs of the every learner. The school counsellor collaborate with stake holders to meet learners identified needs, deliver intervention using research based methods, and analyse data to continually improve.
WHAT IS COUNSELLING?
Counselling is essentially a conversation between the individual and a counsellor. A counsellor is a trained professional who genuinely cares about students well-being. The counsellor will listen carefully to your concerns or worries and will help you to explore and identify ways to cope and improve your situation (Academics, personal or emotional challenges, family or etc). The counsellor could also offer further resources that address your concerns.
WHO SEEKS COUNSELLING?
People of all ages and backgrounds, at different stages in their lives, seek counselling.
DO STUDENTS USE COUNSELLING SERVICES OFTEN?
Yes, the counsellor see many students on a daily basis and appointments have to be made in advance.
WHY SHOULD I SEEK COUNSELLING?
Many students are surprised at how helpful counselling can be. Counselling helps students:
Improve their academic performance
Learn strategies to cope with challenges( e.g., stress, anxiety, depression, phobia)
Deal with stress, grief, trauma and other life stressors.
Understand problems, identify strategies and strengthen problem solving skills
Reduce feelings of being overwhelmed
Regain a sense of focus and control
Discover personal strengths
IS COUNSELLING PRIVATE AND CONFIDENTIAL?
Yes. Counsellor have a legal obligation to keep all information disclosed by students confidential. Anything a student tells a counsellor is confidential and will not be shared with family, staff, instructors or others without written permission and will not become part of academic records.
WHO ELSE CAN I TALK TO
If you are going through a difficult time, it is always helpful to talk to someone you trust. Friends, family members, peer group, teachers, can be a great sources of support.
HOW DOES A PARENT / GUARDIAN SEE COUNSELOR?
Parents and guardians are welcome to meet with counsellor and are asked to make appointments in advance, to ensure that the counsellor will be available. You may call or email a counsellor to set up a meeting.
Programs offered:
ACADEMIC/ EDUCATIONAL COUNSELLING
PERSONAL/SOCIAL COUNSELLING
CAREER/ VOCATIONAL COUNSELLING
WORKSHOPS FOR TEACHERS, PARENTS, NON TEACHING STAFFS.
MENTAL HEALTH AWARENESS AND SAFETY PROGRAM
WELLNESS PROGRAM
MEET YOUR COUNSELOR:
Ms.Vijayalakshmi is a highly acclaimed Psychologist, Motivational speaker and Student counsellor. She delivers programs and workshops on various mental health issues. She is recognized as an expert on adolescent issues and family therapy, she frequently appear in T.V shows too. With a strong desire to explore the field of brain and behavior, she ended up doing her Master's in psychology and her inner voice urged her to do one more Master's with specialization in counseling psychology.
She is a certified Global career counselor and NLP practitioner. She worked as a High school Counsellor for MAHARISHI VIDYA MANDIR SENIOR SEC SCHOOL – CHETPET for more than three years, founder of DETOX YOUR MIND CLINIC located at Ambattur with 9 years of counselling experience.
As a psychologist, she also works with business and every professionals to create breakthroughs in people's work lives. She volunteered and worked in many educational institutions as a psychologist and personality development trainer. She is also a writer and Author
Few Recent Workshops,
UNLOCK THE LOCKDOWN
NLP FOR STUDENTS
MEDITATION AND HAPPINESS WORKSHOP
PARENTING FOR WORKING MOM
THE NEW PARENTING PARADIGM
HABIT FORMATION
IQ AND EQ FOR STUDENTS
CAREER PLANNING
GRANDPARENTING IN THE NEW ERA
"IT "PEOPLE AND STRESS
MEMORY MASTERY AND TIME MANAGEMENT WORKSHOP
POCSO ACT

Workshops for Teachers,
PROFESSIONAL DEVELOPMENT FOR EDUCATORS IN THE 'NEW NORMAL" – September 24th 2020
Counselling Department conducted a workshop for all teachers on Professional Development for Educators in the "NEW NORMAL". The workshop was designed to stimulate innovation in teaching and learning approaches. To facilitate unlearning and relearning appropriate pedagogical skills in the exceedingly volatile classrooms.

MINDFUL WORKLIFE – INTEGRATION    NOVEMBER 12TH 2020
Counselling Department conducted a workshop to introduce the participants to mindful strategies for successful work life integration and to learn the effective elements of mindful communication and Work Ethics. All the teachers of primary, middle and senior sec participated in the workshop.
At the end question box session was designed in such a way to clear all their doubts and queries related to work culture and personal life.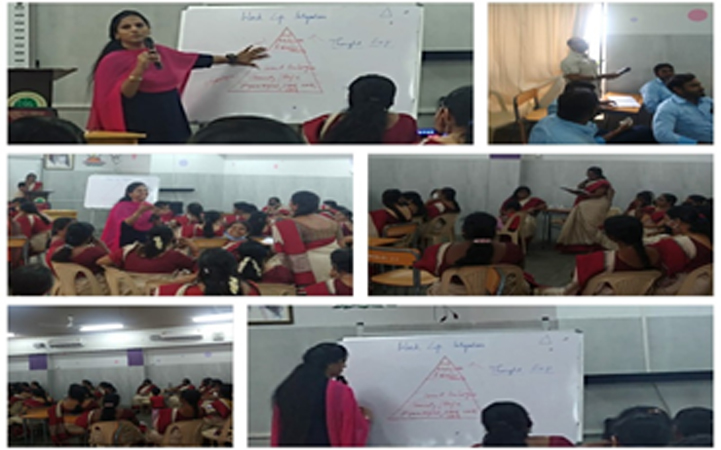 Workshop for Students
AEP – SESSION
ADOLESCENCE EDUCATION PROGRAME – NOVEMBER 7TH 2020
The programmed is to create awareness about maintaining healthy physical, social and mental health during adolescence. To gain adequate knowledge about the process of growing up and to clear the doubts and myths associated with the teens. On Child sexual abuse, stories and activities related to safe and unsafe touch was narrated to nurture confidence and self-caring attitude.
Session was planned to girls and boys separately.
Girls of different age groups participated and came out with so many questions on myths and misconceptions, gender issue, relationship with peers, defining "TRUST" and how to maintain healthy relationship with parents. Session was conducted  virtually on every Saturday.